CASPERIA, SABINA AND CENTRAL ITALY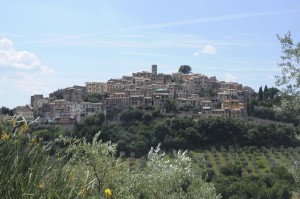 Casperia, considered one of the most beautiful medieval villages in Central Italy, is certainly a small jewel. The old town centre which has been immaculately restored in the past two decades is closed to car traffic.
The village is spread over the top of a hill and maintains typical medieval features. Narrow alleyways and paved steps rise in concentric rings to the main square on the top.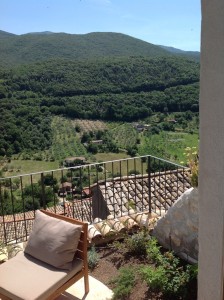 The landscape is marked by the Monti Sabini and their typical Mediterranean vegetation (macchia mediterranea). The river Tiber (Tevere) supports the area's traditional agriculture providing in abundance products typical of the Mediterranean cuisine.
Awarded with the "Bandiera Arancione" by the Italian Touring Club for its excellence and quality of guest reception and entertainment, Casperia offers wonderful views over the Sabine mountains and overlooks the Tiber valley and the mount Soratte, celebrated by the Roman poet Horace. On approaching Casperia, the traveller recognizes the village from afar by its unique skyline landmarked by the XIII century bell tower and the centuries-old oak tree.
Casperia is about 2 hours drive away from Florence, Siena and the Chianti, and ca 1 hour from Perugia, Spoleto, Todi and Orvieto. Rome and Vatican City are hardly 1 hour's drive away. Be reminded of the Extraordinary Jubilee of Mercy declared by Pope Francis beginning on 8th December 2015 and concluding on 20th November 2016.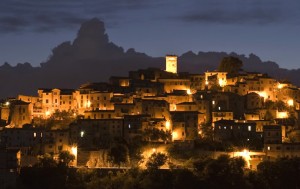 Casperia concentrates all of Sabina's beauties: nature, landscape, history, architecture and art. One particular aspect of the Sabina is the high quality olive oil, certainly one of its culinary specialities – not to mention all the other typical and genuine products and flavours of the region.
The area also offers countless leisure opportunities and sport (trekking, horse-riding, biking, rafting and yoga).
For more details about what to see and to do in Sabina, visit www.sabinaon.it.
Also, do not hesitate to contact the hosts for further information and support on specific activity of interest.
Read the article about Casperia on "Bell'Italia of September 2014".