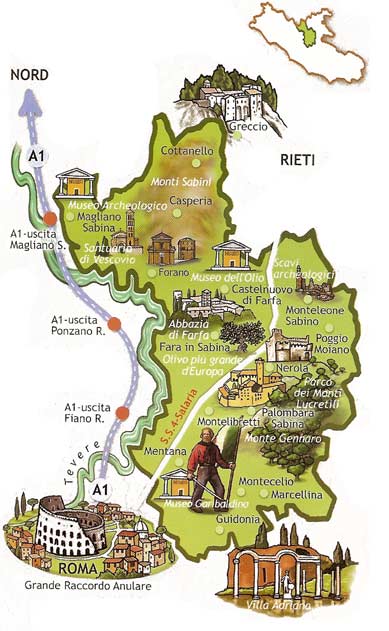 At approximately 40km North-East of Rome, Sabina is enclosed within the shore of the Tiber towards the Sabina mountains and beyond: East to Abbruzzo, North-East towards Umbria.
The landscape: rolling hills covered in vineyards and olive groves, climbing up steep mountains. Oak forests intersected by lakes and rivers, some as relevant as the Tiber, the Velino, the Nera. Medieval villages and monasteries are spread all over, all positioned high up. An area almost untouched by modern times and modern construction development.
Sabina's origins start in the pre-historian age (relics datable to the Palaeolithic, 30-60.000 B.C.).
In 1200 B.C. the Sabini arrived from the Adriatic sea. During a millennium, a farmer-driven civilisation grew fertile also thanks to the presence of the Tiber. Between the 3. and 2. century (B.C.) an earthquake followed by the Roman conquest marked the decline of the reign of the Sabini. The Romans, however, reorganised the agricultural structure and started covering the territory in vineyards and olive groves.
The era following the fall of the Roman Empire was characterised by the diffusion of Christianity and monasticism. The construction of the Farfa Abbey goes back to the VI Century. The abbey belonged to the order of the Benedictines, a monastic organisation that had power in the whole of Europe. Within the same period of time, the population decided to abandon the old villages located in the valley to move upward the hills and build more defendable citadels.
During the XII Century, Sabina saw the decline of its religious power in favour of the rise of the Pontifical power. Since then, its history – as that of many other centres of the area – crosses wire with the big Roman families and the papal state.
In 700, the population moved again; from its refuge up the mountains, down the countryside, building homes and farms far from each other. The process occurred mainly in the "lower Sabina", where the soil proved fertile and permitted the raise of the sharecropping.
Amongst other products typical of the area, cheese, meat, honey, mushrooms and fruit are the best varieties in the area. This, thanks to an agricultural tradition that was able to resist to industrialisation and keep the farmer's good old habits.